Before he became (one of) the greatest directors of the 20th century, Alfred Hitchcock started out his film directing career in London in the 1920s. After a few jobs as assistant director, he landed his first gig as principal director on 1923's The Pleasure Garden. Four years later he made Downhill, a melodrama which has been described as only of interest to Hitchcock 'completists'. In addition to providing an insight into the development of Hitchcock's craft, this film also reveals cultural assumptions underpinning interwar London society.
Downhill stars the popular actor and entertainer Ivor Novello (who co-wrote the play on which the film is based) as Roddy Berwick, the son of a wealthy family who excels at his public school and has a glittering future ahead of him. Roddy's best friend, Tim, comes from a less affluent background. Tim has a liaison with Mabel, who works at the local sweetshop; this affair results in Mabel falling pregnant. Mabel tells the schoolmaster that it's Roddy, not Tim, who is the father; Roddy promptly gets expelled from school and disowned by his father.
This starts Roddy's downward trajectory in life. He first works as an actor and marries a glamorous actress who fleeces him for all his money before throwing him over. Roddy moves Paris, where he works as a gigolo. Eventually he ends up very ill in Marseille, where a few sailors manage to take him back to London. At the end of the film Roddy straggles back into his father's house, to find that his father has found out that it was Tim who made Mabel pregnant, and has been desperate for Roddy to forgive him for his rash decisions. After his travails in the darker side of life, Roddy is restored in his rightful position.
One of the main themes of Downhill, as is clear from the plot description, is intergenerational conflict. When Roddy comes home from school a week early, his father immediately believes that the school must have been right in expelling him, and he does not even wait to hear Roddy's explanations. The father's rejection is so definitive that Roddy immediately leaves home and is unable to come back until he is almost at death's door. Prior to this, the school and headmaster, who took their places as surrogate home environment and father figure, have also rejected Roddy.
The established institutions of society, school and the patriarchal father figure, turn their backs on Roddy. The older male generation here can be interpreted as a proxy for the generation of older politicians who sent off thousands of young British men to the trenches in France and Belgium in 1914. The War is not explicitly mentioned in Downhill, but its themes echo the sentiment that the older generation abandoned and unfairly sacrificed the younger one. When, at the end of the film, Roddy's father asks Roddy for his forgiveness, it is not too much of a stretch to imagine him as a stand-in for the political establishment, asking the younger generation to forgive them for the War – a request that must, of course, remain limited to the realms of fiction.
The second theme running through Downhill, and this is perhaps one where Hitchcock's hand is more readily recognised, is that apart from Roddy's mother, all the women in the film prey on him and exploit him. Roddy's mother, incidentally, only appears briefly at the beginning and end of the film and is completely irrelevant to the plot – it is only his father's approval that matters to Roddy. Each stage of Roddy's downfall is marked by a different woman. First there is Mabel, played by Annette Benson; she is depicted as a pretty one-dimensional 'loose woman' with make-up, a short skirt, and an apparently insatiable desire to flirt. She pro-actively asks Tim to come and see her in her shop on Wednesday afternoon. When he brings Roddy along, Mabel appears to consider this an opportunity rather than a barrier.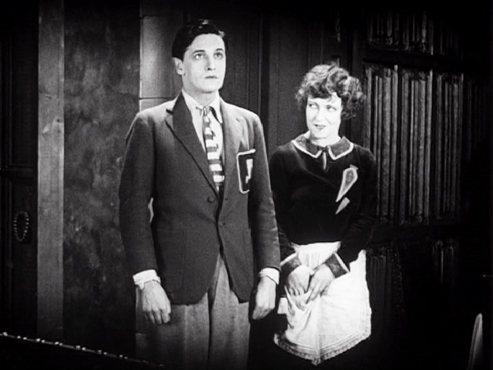 As soon as she has figured out that Roddy has more money than Tim, and is unlikely to allow himself to be seduced by her, she apparently hatches her plan. The film leaves it up to the viewer to decide whether Mabel is actually pregnant or not (although not sufficient time appears to have passed for her to be sure of it); it is pretty clear she accuses Roddy because she knows she can get more money out of him than out of Tim. Roddy does not dispute the claim out of a sense of honour and loyalty – he knows Tim's future will be ruined if the truth comes out.
The second woman Roddy meets, and one he falls completely in love with, is the actress Julia Fotheringale. She is already in a relationship with Archie, but her expensive tastes is clothes and luxury goods are starting to become a problem. When Roddy unexpectedly inherits a large sum of money, Julie agrees to marry him. Once she's spent his fortune, she abandons him again. Both Mabel and Julia are only interested in the money that Roddy can provide them with; they are both shown to be calculating and cold. Once Roddy's money has completely run out he starts to work as a dancer-for-hire in Paris. His body is now the property, and it is control of the madams who run the nightclub.
Downhill's resolution provides an indication of what the audiences were encouraged to think really mattered: yes, Roddy's father acknowledges he was wrong, but ultimately Roddy seeks his approval and wants to restore his place in the family unit. Roddy's sense of honour, which leads him to keep Tim's secret, is one of the central guiding principles for his behaviour. When he is nearly dying in Marseille, the knowledge that he has kept Tim's secret for him is a comfort to Roddy. Paris, as usual, is shown to be a den of immorality. Ultimately, values traditionally associated with British upper class men are presented as desirable and admirable.
Downhill is available to view on Youtube.